Photography Courses to Inspire


Embark on your photographic adventure and discover your talents and creativity,
enjoy lots of doing and hands on tuition, visit great places and come home with amazing images.
Let your photo fun begin here!

Inquire now.
Download and view Rates Sheet Photo Courses 2013
"I want to take the chance to thank you for the wonderful safari and great care you gave me on my photo safari last week. This was a remarkable photographic adventure for me as well as all support around in analyzing and reviewing the pictures I took, while you gave just the advise I needed at the time I needed!" Peter Tomsu

read full testimonial
Roho Ya Chui photography courses
are presented by professional photographer Ute Sonnenberg. The courses have the intention to inspire and to enable the attendants to conquer photography in their own personal way. All lessons have an individual character to meet the needs of the student and to provide customized guidance for all levels of photography.


Beginners seem to be hesitant to explore photography further, especially when it comes to bigger cameras and lenses.The technical side of photography can be experienced as intimidating. Therefore we try to teach it in a playful way with simple analogies to make it easy to recall the information when needed any time later and to understand the essence of a camera.

Besides the technical side, the lessons include the artistic side of photography, working with light and composition to achieve the desired results, but also very practical tips for the very different situations a photographer sometimes has to face.

The photography lessons are available as one-on-one lessons in Parkhurst, Johannesburg or via skype and as Wildlife Photography courses on Africa's most beautiful destinations. The Wildlife Photography courses are for individuals and small groups in order to guarantee the personal attention. The lessons and courses are presented in English, Dutch and German.


Inquire now.
Check out the tiles & go straight to where you want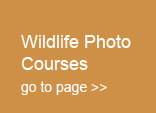 Inquire now.
Meet your host and guide Ute Sonnenberg: