photography technology news & gadgets
PetaPixel: Sun and Cloud is the World's First "Self-Generating" Digital Camera


If flashlights can be solar and mechanically powered, why can't digital cameras? Turns out they can. Superheadz Japan has launched a new digital camera called the "Sun & Cloud." It's the world's first digital camera that's capable of generating its own power so that you don't need to constantly be worrying about battery drain and recharging.

read more
PetaPixel: Socialmatic Camera to Arrive in the Real World with Polaroid Branding


A few months back we shared the news that, assuming Instagram's trademark lawyers didn't get ahold of it first, the Socialmatic camera would indeed be making an appearance IRL. And now, none other than Polaroid has stepped up to place its name on the Instagram icon turned physical camera
read more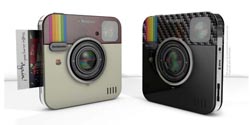 PetaPixel: Review: Olympus E-PM2 Is Small, Speedy, And Sleek, But Its UI is Not


Olympus first ushered its PEN brand into the digital age back in 2009 with the
E-P1
. Since then, the lineup has split into three distinct tiers: the E-P line for standard PEN cameras, the E-PL line for smaller "Lite" models, and the E-PM line for even smaller "Mini" models. Goldilockean photographers can therefore choose the size and feature set most appropriate to their needs (and hands).

read more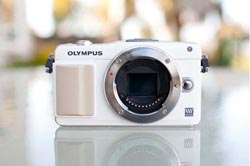 Gizmodo: Karma 4G Hotspot: An Awesome Stash of Just-In-Case Internet

Having the ability to set up a Wi-Fi network wherever you need one can be great, but it can also come at a cost. Hotspots come with expensive plans, and more and more often, phone tethering does too. The Karma hotspot, on the other hand, is totally pay-as-you-go, and even comes with the built-in ability to accrue a (small) stash of data completely for free.

read more
Gizmodo: Sony NEX-3N Hands-On: The Teeny Tiny Interchangeable Lens Camera


The latest of the seemingly endless iterations of Sony NEX interchangeable lens cameras is the NEX-3N. At $500 including kit-lens, Sony is shooting for the lower end with this one—primarily people who are just stepping up from a smartphone or compact point-and-shoot. We got a chance to toy around with the new camera today at the American Museum of Natural History. First impression? Adorable.

read more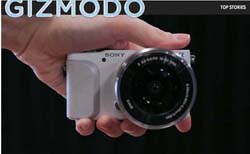 PetaPixel: Pentax WG-3 Everything-Proof
Compact: Microscope Mode and Wireless Charging
Pentax has announced its latest line of uber-durable "adventureproof" compact cameras. There are three distinct cameras in the lineup: the WG-3, the WG-3 GPS, and the WG-10. All three are designed to take a beating and survive in locations that would be hazardous to other cameras' health.
read more
PetaPixel: Pentax Announces Special Edition Q10 Designed for Evangelion Anime Fans


It seems camera companies are trying to target Japanese anime fans these days. In September 2011, we wrote about how Leica had teamed up with the designer of Gundam (not to be confused with Gangnam) for a limited edition mech-themed V-LUX 30 digital camera.

read more




The Phoblographer: Nikon J3 and S1


The Nikon J series of cameras, believe it or not, sell very well here in the US. They're small, portable, simple to use, and they're stylish. Our News Editor Peter Walkowiak owns one, and playing with the new
J3
and
S1
was an experience that was really quite intriguing. This is a fast refresh to the J series with some minor updates; and the new S1 is positioned as a brand new entry level J series camera.
read more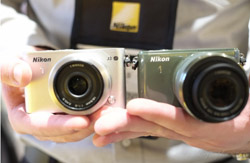 pdn: Canon Unveils Four New Compact Cameras Including Square-Shaped, Virtually Buttonless PowerShot N


Canon unveiled four new PowerShot compact cameras as part of the Consumer Electronics Show (CES), including the uniquely designed 12.1-megapixel PowerShot N.
read more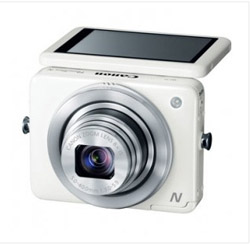 The Phoblographer: Fujifilm Instax mini 8


The Fujifilm Instax Mini 8
was announced
a while back and the company for sure said that it would be making its world-wide debut around CES 2013. They held true to their promise, and the new Instax is just as fun and awesome as the previous versions were.
read more
Fstoppers: Nikon 1 V2 Announced and Available for Pre-Order


Just after my
1 V1 review
this week, Nikon has their replacement
1 V2 ready for pre-order
after an announcement last night. The V2 builds even further on what was already a fantastic, solidly built camera.
read more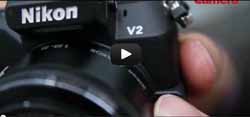 PetaPixel: Lomography Belair X 6-12 is a Medium Format Camera with AE and Bellows


Just because a camera has bellows doesn't mean it's vintage. Just announced today, the new
Lomography Belair X 6-12
has bellows as well. It's a portable medium-format camera that shoots auto-exposed photographs on 6×12 film — the world's first camera to do so.

read more
PetaPixel: Bird Photo Booth Lets You Snap Stealth Photos of Birds Eating

Bird Photo Booth
is the world's first bird feeder that doubles as an iPhone and GoPro photo booth. Invented by photographer and bird-watcher
Bryson Lovett
, the hardwood feeder uses food to lure your feathery friends into closeup portrait sessions. Photographs can be snapped remotely by pairing your iPhone with an iPad that's running a remote camera app.
read more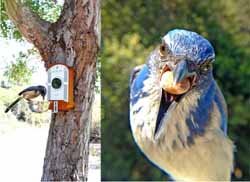 Cult of Mac: New Nest Thermostat: Thinner, Sleeker, Better. Sound Familiar?


"Father of the iPod" Tony Fadell's company Nest has released version 2.0 of its Apple-like thermostat. And like any good Apple update, the Nest 2.0 is thinner, better and good-looking-er.

read more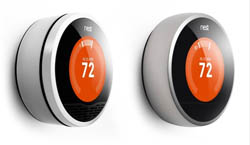 PetaPixel: 102 Autofocus Points on Sony A99 Only Compatible with 6 Lenses At Launch


When the Sony A99 SLT was announced last month, photographers gawked at the camera's 102-point focal plane phase-detection system that compliments its traditional 19-point AF system. If you've been drooling over the idea of using 121 separate focus points, here's some bad news: the feature may not be compatible with your Sony lens.
read more
PetaPixel: LIFX:A WiFi-Enabled LED Bulb that May Revolutionize Photographic Lighting


What if there existed a lightbulb that you could completely control using your phone? And by "completely control", I don't mean simply switching on and off. I mean being able to precisely control the brightness of the light emitted, and even the exact color of the light.
It sounds crazy, but it's a light bulb that's actually being developed. Created by Phil Bosua of San Francisco, the
LIFX
is a Wi-Fi enabled LED light bulb that can be wirelessly controlled using an iPhone or Android device. While Bosua imagines a plethora of home and commercial applications, it's the bulb's photographic potential that we find very exciting.

read more
LeicaRumors:The new Leica X2 Paul Smith limited edition


Modern digital technology 'Made in Germany' meets extravagant styling from the world of fashion in new Leica "Edition Paul Smith" digital camera
read more
PetaPixel: Sekonic Announces the World's First Touchscreen Light Meters


Cell phones have already gone the way of the touchscreen, so why not light meters? Perhaps they will, starting today. Sekonic has just announced a two new light meters that are the world's first to offer a touchscreen interface. The
L-478D and L-478DR
both feature a 2.7-inch LCD touchscreen through which settings are changed by tapping or sliding your finger.

read more
B&H New York:Nikon D600

Nikon's most compact full-frame HDSLR camera.

read more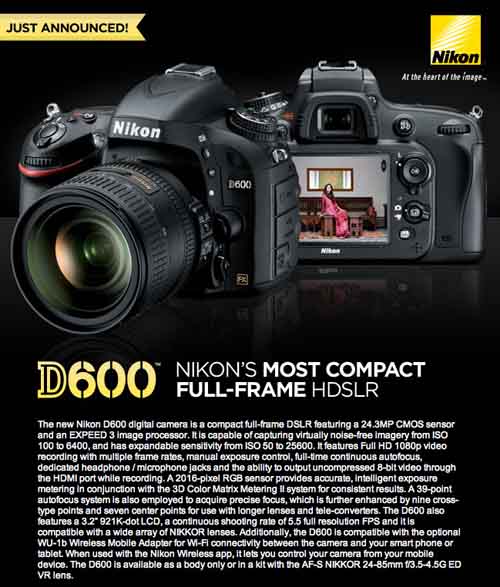 B&H New York: Sony DSC-RX1


Worlds first compact full-frame fixed-lens digital camera,

read more






PetaPixel: Samsung Galaxy Camera Unveiled, More Phonecamera Than Cameraphone


Well, that's one leaked camera certainly didn't take long to become a reality. Less than half an hour after we
shared the first leaked photos
of the Samsung Galaxy Camera, the camera was officially announced over in Berlin. Here's the basic spec lowdown: Android 4.1 Jelly Bean, a 16 megapixel 1/2.3″ BSI CMOS sensor, a 21x f/2.8-5.9 23-480mm (35mm equiv.) lens, a 4.8-inch HD LCD screen, a minimal smartphone-esque design, a 1.4Ghz quad core processor, 8GB of internet storage, ISO of up to 3200, and 3G/Wi-Fi or 4G/Wi-Fi.
read more
PetaPixel: Instagram Socialmatic Camera to Go from Concept to Physical Product


Do you remember the Instagram Socialmatic? It's a concept camera that made the rounds on the Internet back in May — a camera that lets people snap photos, share them online, and print them out as squared-shared sticky-note-style instant photos. The camera will soon go from digital concept to physical reality: it's being turned into an actual camera, which is a proposed release date of mid-2013.

read more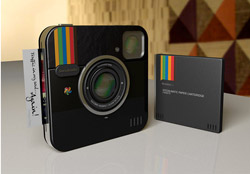 PetaPixel: A Closer Look at Nikon's New Android-Powered S800c Compact Camera


Nikon made a big splash in the compact camera world yesterday by being the first major camera manufacturer to bake Android OS into a compact camera,
the Coolpix S800c
(
Polaroid released one a while ago
, but it's hardly a major player at the moment). The S800c looks and sounds interesting as far as specs and press releases go, but what's it actually like to use a camera that could be mistaken for a smartphone?

read more





PetaPixel: Photos of the Future May Be Stored on Strands od DNA

If you think modern day hard drives store a lot of data, get a load of this:
researchers at Harvard have succeeded
in storing roughly 700 terabytes of data in a single gram of DNA. The strands of DNA are treated much like other storage devices, except instead of using electric charge or magnetism to store information, DNA's four bases (A,C,G,T) are used.
read more
Fstoppers: Fisherman Captures Amazing Footage Of Dolphins Underwater With Gopro


One thing I love about the
Gopro Hero 2 cameras
is that normal, everyday people can record amazing footage that has never been seen before. Such is the case with
Mark Peters
who thought he was just going to film some albacore tuna during his fishing trip. Little did Mark know what his GoPro would capture inside his homemade underwater torpedo. This footage is so good it almost looks CGI! It's pretty impressive how much better the Hero2 is in low light compared to the original Gopro.

read more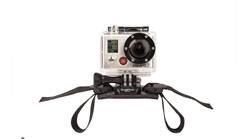 PetaPixel: Print Photos onto Fabric Using Sunlight With the Lumi Process


The
Lumi Process
is a new print process for transferring photographs onto textiles and natural materials. It's based around Inkodye, a light sensitive solution that uses sunlight to print images onto everything ranging from cotton to wood. Once fixed, the images are permanent and can go through washing machines without fading.

read more




PetaPixel: Review: Olympus Tough TG-1 his Lets You Ditch that Zip-Loc-Bag


A few weeks ago, some friends and I went on a rafting trip. Not wanting to put an actual camera at risk, I decided to simply bring my iPhone along in a Zip-Loc freezer bag. A pretty ghetto solution, I know, but it turns out that many rafters do the exact same thing.

read more




PetaPixel: Samsung Unveils MV900F Compact with Gesture Controlled Self Portraits


It may not have been the best day to release a new compact camera, given that
Panasonic announced five
of them (if you count superzooms), but Samsung powered through anyway, unveiling its new addition to the compact world: the stylish looking MV900F. Unlike most of the compacts we've seen coming our way in the past month, this isn't a technical powerhouse with a superfast lens or a huge sensor. What the MV900F offers is a bunch of cool, if not a little bit random, features that try to entice the everyday user away from their smartphone.

read more
"No Photos This Good Have Ever Come from a Camera This Small"

Remember the mysterious camera NYTimes columnist
David Pogue was gushing over
earlier this month? Turns out it's the
Sony RX100
. In
his review of the camera
published yesterday, Pogue calls it "best pocket camera ever made" and writes,

read more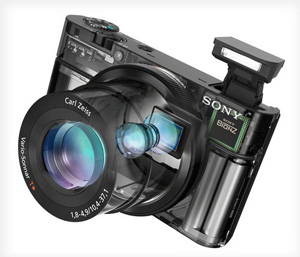 Polaroid Z2300: Instant Photos in a Point-and-Shoot Body

Polaroid lovers will be happy to know that it doesn't look like the company is slowing down where the instant camera game is concerned. Late last year they unveiled
the Z340
— a futuristic digital instant camera in the classic Polaroid style — and now they've officially announced their newer, sleeker Z2300. The Z2300 falls somewhere in-between Polaroid's big and bulky Z340 and the dinky (and somewhat unwieldy)
PIC-300
. In many ways it combines the best of both worlds in to a much more stylish point-and-shoot package.

read more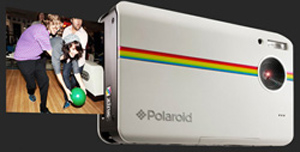 Lomography Announces a New Pocket Camera To Go With Their 110 Film

Admittedly, people didn't react all that well when Lomography announced that they were bringing 110 film back from the grave, but you have to give them credit for pressing on. Despite criticism that the old toy camera film was never any good to begin with, Lomography have now announced their new Fisheye Baby 110, a pocket-sized camera to go with the pocket sized film. (via PetaPixel)

read more
Nikon D800E Steals the DxOMark Crown From Its Fraternal Twin, the Nikon D800

It's been almost three months to the day since the well-respected camera equipment rating service DxOMark
crowned the Nikon D800
as its new king, giving the camera's 36.3MP sensor an incredible overall score of 95 — but now its reign is over.

read more
A Heartbeat and Body Temp Controlled Concept Camera for Your Pet

Ever since the move to digital, and especially with the advent of the camera phone, we've seen a huge spike in photography — everybody is taking pictures. But even so, our four legged friends haven't really gotten in on the action. That may soon change, however, if a concept camera by designer Jaehwa Lee ever becomes a reality.
(via PetaPixel)

read more
Instaglasses: Concept Glasses That Apply Your Filter Of Choice to Everyday Life

You know society has gone a little filter-crazy when a concept for Instagram glasses shows up on the scene, but we have to admit that Instaglasses make for an interesting idea. The basic premise is that Instagram fanatics aficionados would be able to use these to always see the world in filters. When they then glimpsed a scene that looked especially artsy with the Amaro or Inkwell filters applied, they could use a button on the side of the glasses to capture and upload that image to Instagram. (via PetaPixel)

read more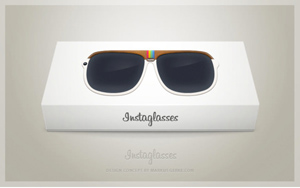 Pentax to Announce the K-3 Full Frame DSLR At Photokina

There's been a lot of talk about new full frames making their debut in the next year, Nikon and Canon monopolizing most of the news with their rumored entry-level offerings, but one company that might slip in under the radar is Pentax. Rumors of Pentax's K-3 full frame have been circulating for some time, but Photo Rumors recently reported on a few updates including possible announcement and release dates. (via PetaPixel)

read more
Instagram Socialmatic:
A Concept Design for a Physical Instagram Camera (via PetaPixel)

see & read more

Canon 60Da Sample Star Photographs

Yesterday Canon announced a new DSLR geared specifically towards taking pictures of stars,
the 60Da
. For $400 more than the original retail price of the standard 60D, avid astrophotographers can purchase a camera that offers a "modified infrared filter and a low-noise sensor with heightened hydrogen-alpha sensitivity" for shooting "'red hydrogen emission' nebulae and other cosmic phenomena". If you have no idea what that means, Canon has helpfully published a number of sample photographs captured with the camera. The side-by-side comparison above shows how the camera's results differ from the standard 60D. (PetaPixel)
more about the Canon 60Da
The Future: Snap and Share Photos Using Augmented Reality Glasses

If Google's vision of the future pans out, we may soon be snapping and sharing photographs using augmented reality "glasses". The company is working on a product that's currently going by the code name "
Project Glass
". As the concept video above shows, the aim is to have a wearable "computer" that can project useful information about the world directly into the user's eye, allowing people to constantly interact with the Internet throughout their everyday lives. The glasses would even be able to snap photographs based on voice commands, and then instantly upload them to the web. (PetaPixel)
read more


Inquire now.