Why should you know about flood levels in the Okavango Delta
18/05/18 Filed in:
safari destinations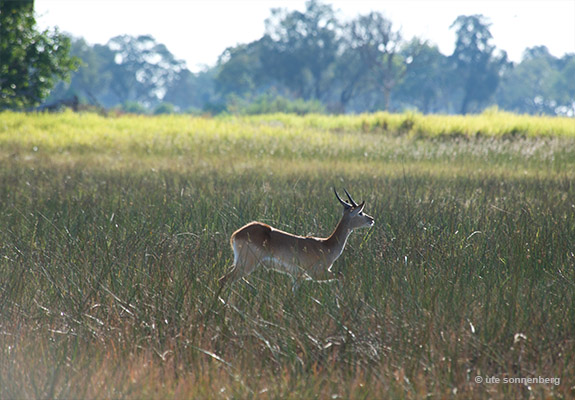 The Okavango Delta in Botswana is one of the
Seven Natural Wonders in Africa and a UNESCO World Heritage Site
. It attracts thousands of visitors every year and is a top-rated African safari destination. Despite being very popular under safari travelers, the Okavango Delta offers remote tranquility, intimate wildlife sightings and a great variety of safari activities, both land and waterborne. A visit to the Okavango Delta is an enchanting
African safari
experience.

The delta is produced by
seasonal floods of the Okavango River
, draining the summer rainfall from the Angola highlands into the Kalahari. The surge flows about 1,200 kilometers in approximately one month and spreads over an area of about 250 by 150 kilometers in size. The water never reaches the ocean. It rapidly evaporates due to the high temperatures in the delta. The flood peaks between June and August and the delta grows to three times of its permanent size. As this happens during the dry winter months, the water attracts wildlife from kilometers away and creates one of the
greatest concentrations of wildlife
in Africa.

When planning your safari to the Okavango Delta, you should
keep the flood levels
at the different times of the year
in mind
. They have influence on the activities you can engage with at the different safari lodges. Low flood level can mean, that waterborne safari activities are not possible or in the case of high flood level, game drives in certain areas are not possible. Check the location of your lodge or camp in the delta to make sure you can experience all safari activities you would like to join during your tour.

The Okavango Delta is a highly enchanting safari destination year round, yet mind the flood for the safari experience you are coming for.